Domestic violence defense attorney Paul J. Tafelski of Michigan (https://www.michigandefenselaw.com/blog/accused-domestic-violence/) Defense Law has recently released an informative article on what to do if accused of domestic violence. The article provides valuable insights and tips for individuals facing domestic violence charges, including the importance of seeking legal guidance from an experienced domestic violence defense attorney.
Domestic violence is a serious matter that can have life-altering consequences. It is important to seek the advice of a domestic violence defense attorney to protect one's rights and receive proper guidance throughout the legal process. As Tafelski notes, "A skilled defense attorney will safeguard your rights after your arrest and during police questioning. However, a lawyer can assist with any additional investigation, hearings, and throughout the court process."
The aforementioned article offers valuable advice to individuals who are confronting domestic violence allegations. The tips presented include maintaining a safe distance from the accuser and being cognizant of one's rights during police interrogation. Additionally, the domestic violence defense attorney recommends that clients address any underlying concerns that may have led to the accusation, such as drug abuse or anger management, and refrain from discussing the case with anyone but their attorney.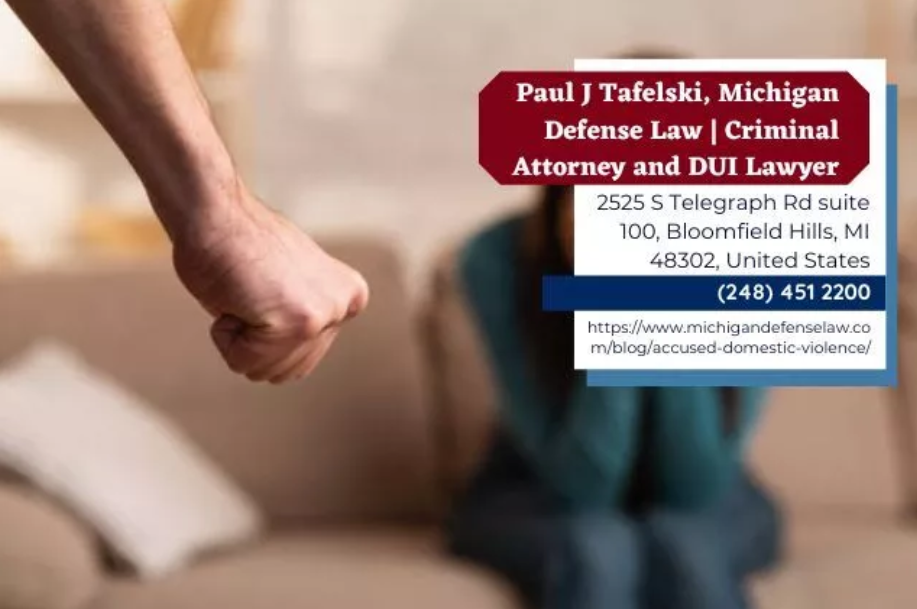 In addition to providing practical tips for those facing domestic violence charges, Tafelski also discusses possible defenses that may be used in court. For first-time offenders, there may be the option to enter a special program under Michigan Criminal Law 769.4a. However, this program has its limitations and is not available for repeat offenders or other misdemeanors or felony assault offenses.
Tafelski notes that one possible defense strategy is to attack the false accusations of the accuser, particularly if they were made to gain an advantage in a child custody or divorce contest. Other potential defenses include self-defense, protection of others, and attacking the credibility of the accuser.
As Tafelski explains, "The life-altering consequences of a conviction, plea, or charge of domestic violence are severe. It is important to find the best Michigan domestic violence lawyer to defend you." Individuals facing domestic violence charges should seek the guidance of an experienced defense attorney as soon as possible to protect their rights and receive proper legal representation.
The recent article by domestic violence defense attorney Paul J. Tafelski offers useful guidance and suggestions for individuals who are facing domestic violence charges in Michigan. It is crucial for those who are in such a situation to obtain the services of a seasoned domestic violence defense attorney and adhere to the recommendations outlined in the article to guarantee their rights are protected and they obtain appropriate legal representation.
In Michigan, domestic violence is considered a serious offense under the Domestic Violence Prevention and Treatment Act. False accusations of domestic abuse can have a detrimental impact on those who are wrongfully accused. Such allegations are often made in the context of divorce or custody battles where one party seeks an advantage in court. It is important not to let emotions overpower logic, especially when facing unfounded accusations of domestic violence. Seeking the guidance of a domestic violence defense attorney is crucial in such situations. By following a few tips on what to do about the allegations, they can protect their rights and avoid making any hasty decisions that may negatively affect their case.
About Michigan Defense Law:
Michigan Defense Law is a leading criminal defense law firm based in Michigan. The firm provides legal representation to individuals facing a wide range of criminal charges, including domestic violence, DUI, drug offenses, and more. The experienced attorneys at Michigan Defense Law are committed to protecting their client's rights and providing the highest level of legal representation.
Media Contact

Company Name
Paul J. Tafelski, Michigan Defense Law | Criminal Attorney and DUI Lawyer
Contact Name
Paul J. Tafelski
Phone
(248) 451-2200
Address
2525 S Telegraph Rd suite 100
City
Bloomfield Hills
State
Michigan
Postal Code
48302
Country
United States
Website
https://www.michigandefenselaw.com/