Amansad Direct Lending Group, a leading provider of alternative equity mortgage solutions to property owners in Canada, is proud to announce its continued commitment to offering clients a diverse range of financing options.
Property owners in Canada seeking alternative equity mortgage solutions can turn to Amansad Direct Lending Group. As a leading provider of private mortgage loans, the company has been providing alternative equity mortgage solutions to property owners since its founding in 2010. Amansad Direct Lending Group has served as a valuable partner to those who may not qualify for traditional loans due to lack of collateral or poor credit history. 
Amansad Direct Lending Group collaborates with a network of direct private lenders, institutional non-bank private lenders, industry partners, and various niche investors to provide a broad range of customized financing solutions to meet each client's unique needs. The company's primary services include refinancing, renewals, and switches, which enable property owners to consolidate bad debts, increase desired amounts, or switch to a new lender with better terms. Second mortgage and equity loans are also available, allowing property owners to utilize the equity they have built into their homes or rental properties for any purpose. 
Additionally, this mortgage lender provides foreclosure, power of sale, and arrears solutions, helping property owners avoid losing their homes. Even those with remaining equity may qualify for a foreclosure prevention loan or renewal. The company also provides residential home purchase solutions for primary residences or investment properties using a private mortgage loan. Moreover, clients can apply for land purchase and refinance services online without any hassle, making the process quick and straightforward. This service is particularly beneficial for those seeking to invest in land for commercial or residential purposes. The company extends additional services such as RTM manufactured/modular home loans, commercial mortgage loans, construction mortgage loans, and title/other asset loans, among others, to cater to a broader clientele.
What sets Amansad Direct Lending Group apart is its streamlined underwriting process, dependable turnaround times, competitive interest rates, and transfer of trust from their DLGN. Property owners can enjoy the convenience of virtual services, with appointments handled entirely over the phone, through electronic signatures, and via email. Only appraisers and lawyers will require in-person meetings for final paperwork signatures. To make the client's experience even better, Amansad Direct Lending Group's experienced professionals keep property owners well-informed and engaged throughout the entire process. They offer comprehensive guidance and support to ensure that property owners make informed decisions that best suit their financial goals. 
Helping clients achieve their financial goals is Amansad Direct Lending Group's top priority. With an array of services that cater to individuals' unique situations and a responsive team of experts, clients can receive funding swiftly and effortlessly. And with its comprehensive suite of services, clients have the tools they need to succeed financially. 
Amansad Direct Lending Group is located at 2500, 10123 99st NW, Edmonton, Alberta, T5J 3H1, CA. To schedule a consultation, contact their team at (780) 756-1119. To Find the Right Financial Solution With Amansad Direct Lending Group, visit the company's website.
Media Contact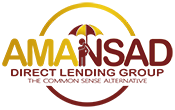 Company Name
Amansad Direct Lending Group
Contact Name
Dan Akowuah
Phone
(780) 756-1119
Address
2500, 10123 99st NW
City
Edmonton
State
Alberta
Postal Code
T5J 3H1
Country
Canada
Website
https://amansadfinancial.com/